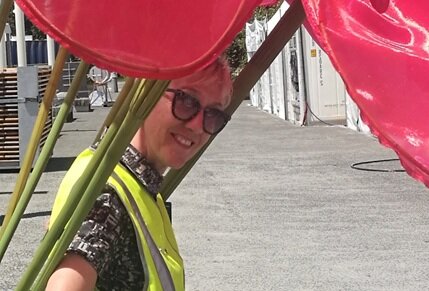 Festival Designer (Lawns)
Roz Wren is a freelance designer/maker, specialising in festival design, theatrical costumes, sets, puppets and community arts workshops. Roz works on many varied projects and loves bringing grand visions into reality, she happily engages with people of all ages, abilities and backgrounds. Designing and making all manner of things, collaborating and sharing knowledge are all part of her professional world. Roz is the recipient of two Tasmanian Theatre Council awards:- Set Design for – 'On Our Selection', for Hobart Rep and Design for – 'An Inconvenient Woman' for Tasmanian Theatre Company.
Festival Designer (Atrium)
Jill Munro is a theatre designer, maker, installation artist, puppet maker, and ceramicist. Her qualifications include an Advanced Diploma of Interior Design, an Apprenticeship in Floristry and a Diploma of Theatre Costume Design. She has travelled the world working as a Floral Artist winning several awards, most notably a Silver Medal at The Chelsea Flower Show in London, and Australian Florist of the Year. She spent four years working in Sydney as a costume and puppet maker for TV and stage. In 2008 Jill relocated to Tasmania to enjoy a more relaxed lifestyle. Here she began to develop her theatre design portfolio, working as designer and maker on many professional theatre shows. In 2016 she won 'Best Design' for Terrapin Puppet Theatre's production Red Racing Hood at the Tasmanian Theatre Awards. Jill also designs and creates site specific art installations for museums and festivals, and has been a member of the Taste design team for the past two years.